Comprehensive Dental Assisting Program
Dental Assisting is a great career choice for someone who enjoys personal interactions with patients.  As a Dental Assistant, technical skills along with a caring personality are needed to help patients feel more comfortable while receiving dental treatments. Dental Assistants perform a wide range of duties and are a vital part of making any dental office successful.
Upon successful completion of this program at the Academy of Dental Assisting at MedQuest College, students are awarded a diploma in Comprehensive Dental Assisting along with certifications in X-ray and CPR.
Areas of study include:
Clinical Dental Assisting
Dental Radiography–digital x-rays and film x-rays
Dental Specialties
Expanded Duties Dental Assisting–placing fillings and making temporary crowns
Dental Sciences
Dental Communications and Scheduling
Dental Insurance Billing and Coding
Dental Recall and Treatment Planning
CPR- certification by the American Heart Association for healthcare providers
Kentucky Certification in Radiation Safety and Technique
Indiana Certification in Radiation Safety and Technique
Professional development – to get you job ready!
300 externship hours in a working dental office.
Placement services to assist you in finding your dream job.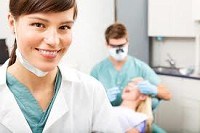 Get Started
It is very easy to get started in our small hands-on dental assisting classes which are forming now in our two dental assistant school campuses in KY serving the Louisville and Lexington metropolitan areas.  Start by Requesting More Information to begin your new career as a dental assistant.